Still on this confounded dial-up and have a full work schedule Tuesday (where photobucket is blocked), so pics may have to wait till late Tuesday or Wednesday (sorry...)
Okay, so yesterday and today was a lesson in why I tell people who are on the fence about going up to Tucks "just go". Yeah, look at the weather but unless it's definitely raining or gale force winds you never know.
Case in point - yesterday I head up with no real expectations given the cloud cover and uncertainty over temps and wind. Well, got exceptional conditions.
Today I head up with high expectations (bluebird, warming temps) and did NOT get great conditions (certainly not horrible, but a far cry from yesterday). The reason - wind! Not high winds, but just enough to take the warmth out of the snowpack.
Headed right into the bowl this morning with the plan to head to the summit. Headed up RG - looking good on the way up. Up into the base of the snowfields, and the wind is getting a bit more gusty. But it's bluebird (as the pics will attest). Snow is feeling just right. Stashed the pack, took water and skis and continued heading up. It just kept getting more and more firm. So decided to turn around and skied back to the pack. Waited a bit and decided to head up again to see if anything was changing. Nope. Sat at my high point for another 10/15 minutes before heading down, just to see if that would help. The snow was very crusty and grabby.
My plan had been to descend the Lip but with now uncertain conditions took the safer route back to RG. Found nice turn on the skiers right drop in, but then found a nasty little windcrust over somewhat heavy snow. Quite skiable, but work. Stopped at lunch rocks and talked to a guy I'd seen earlier who did summit, and informed me the top couple hundred feet were "boilerplate".
I briefly thought about heading up LG a bit, since it's SO filled in. But, no bootpack and my legs were feeling the last 2 days efforts so I wimped out.
Headed out and traversed over to the bottom of Hillmans. Now there was a nice bootpack so figured I'd at least head up to the "Y". Bailed just above the Christmas Tree. Enjoyed a nice ride down yesterdays refrozen corn that never fully turned today. It wasn't that bad, but it was pretty scratchy.
Sherbie was overall fast but very edgeable conditions with a patch every now and then of sticky stuff where the sun was hitting it. Starting to mogul up a bit towards the bottom.
Talked to a few guys at the bottom who said the gullies in GOS were quite nice, but the ski trail out was "interesting".
Okay, here are a few pics from 4/7:
Lobster Claw: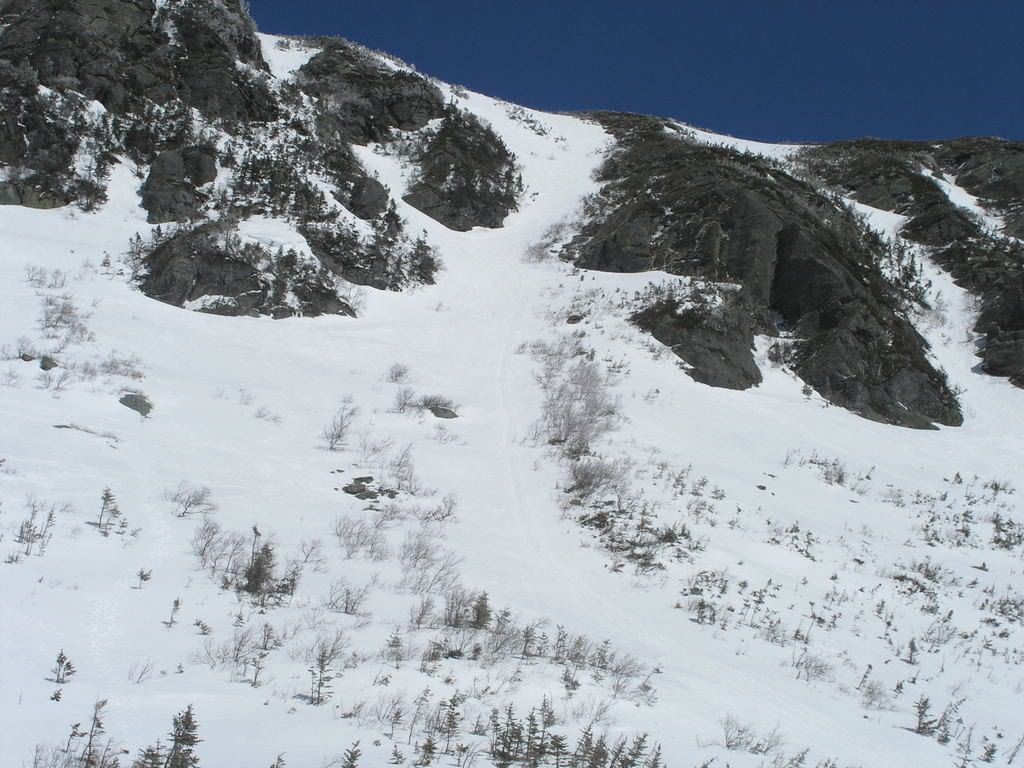 Lip and Sluice: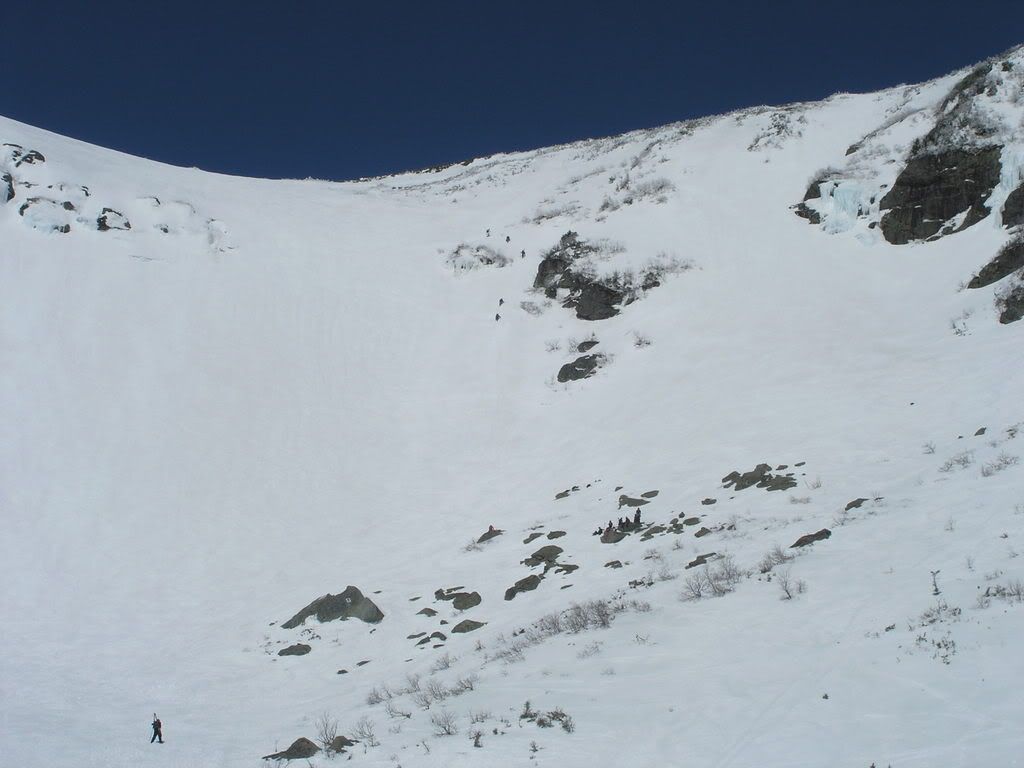 Left Gully (looking awfully full):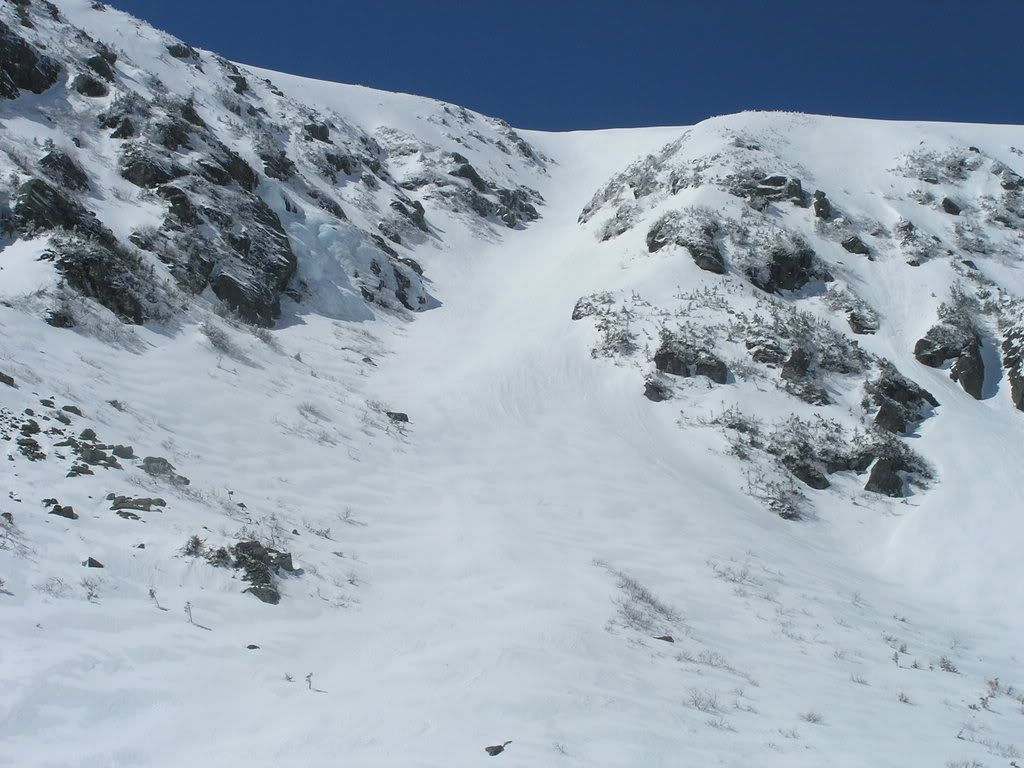 Snowfields: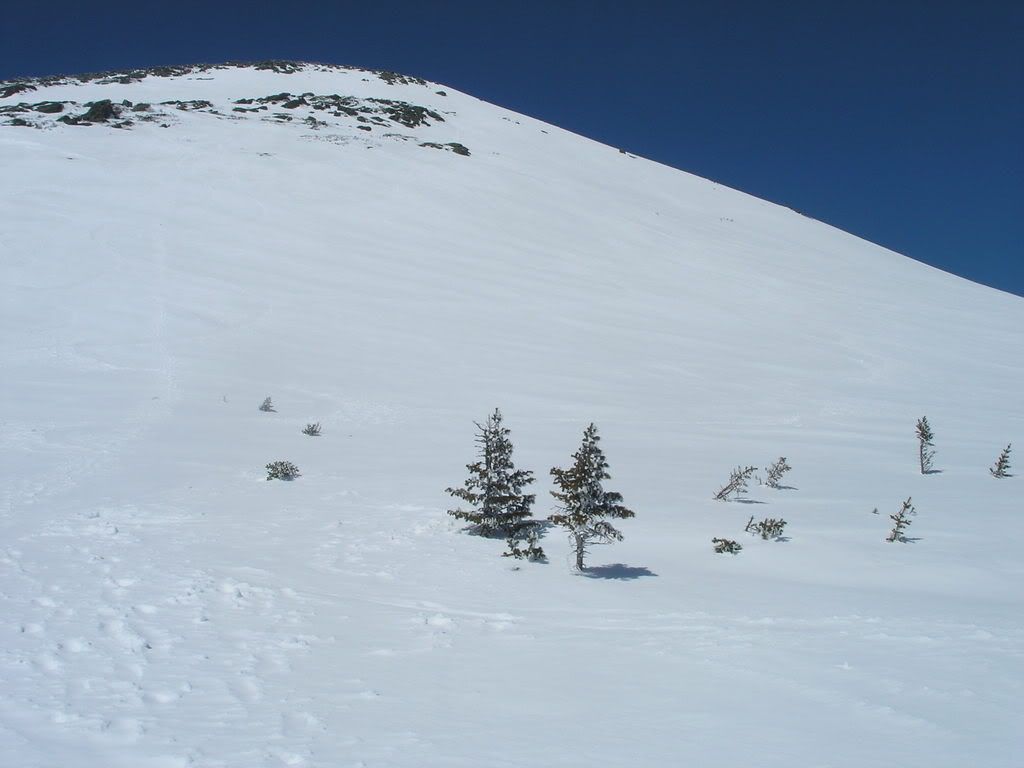 A few tracks: